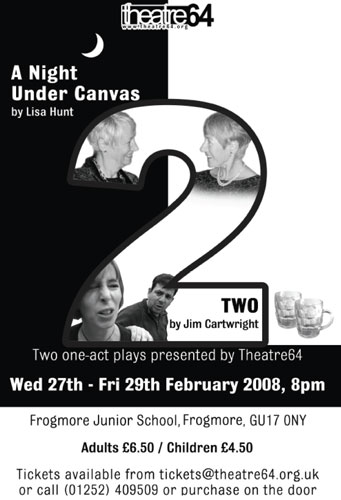 Download larger poster
Two & A Night Under Canvas
by Jim Cartwright (Two) & Lisa Hunt (A Night Under Canvas)
Two
Two is set in a typical local pub. Over the course of the night, we meet the eclectic customers and staff. Fourteen characters - including the pub's warring landlord and landlady, an ageing womaniser, a troubled old man and a lost Elvis fan - are all played by just two actors who take the audience through a whole range of emotions from misery to joy. A hilarious and moving play, guaranteed to touch a nerve in anyone who sees it.
A Night Under Canvas
Two housewives make the most of their unexpected extended stay at a museum. Brenda and Valís distinctive style of art criticism will entertain in this comedy that is both amusing and poignant.
Performance Information
Show dates and times
| | |
| --- | --- |
| Wed, 27 February 2008 | - Curtain-up: 20:00 |
| Thu, 28 February 2008 | - Curtain-up: 20:00 |
| Fri, 29 February 2008 | - Curtain-up: 20:00 |
Ticket Information
On the door
In Advance
Full Price
- £6.50
Full Price
- £5.50
Concession
- £4.50
Concession
- £3.50
Location
Frogmore Junior School,
Green Lane, Frogmore,
GU17 0NY
Enter your postcode for directions
---
Tickets are available in advance by calling (01252) 409509 or e-mailing tickets@theatre64.org or on the door (subject to availability)