Next workshop - Setting The Mood With Light and Sound - Friday 25th April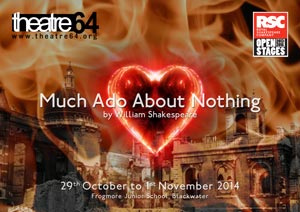 Download larger poster
One of William Shakespeare's best-loved comedies; Hero and Claudio, soon to wed, conspire to get verbal sparring partners and confirmed singles Benedick and Beatrice to the altar against their better judgement.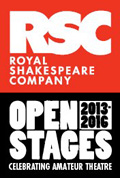 RSC Open Stages Project
Theatre64 have been selected to join forces with the RSC as part of their Open Stages Project!
Gill Richardson will be directing an ensemble cast in 'Much Ado About Nothing' in October 2014 which will also be performed at the Nuffield Theatre in Southampton. With advice and support from RSC professionals it's sure to be a fantastic show!
Additionally, we are running some introductory workshops, prior to casting. Please come along to any of the workshops listed below or email us now to find out more - russ@theatre64.org.
Current confirmed workshops are:
Friday 14th March - Exploring the Text
Friday 21st March - Stage make up


In this workshop, we will explore the basics of stage make up. We will discuss what make up can be used for on stage, but most importantly, we will get stuck in and try out some basic techniques. We will work a basic natural make up consisting of foundations, contouring and blush. We will hopefully then have some time to experiment with these tools to create some more interesting effects. It would be useful if participants could bring along a small to medium-sized portable mirror (ideally, at least A5 sized, lady's make-up mirrors will probably be a bit small to be convenient). Should you have dry or oily skin, it is advisable to bring appropriate creams to treat the skin before application of make up.

Friday 4th April - Exploring the Characters
Friday 11th April - Introduction to Lighting - Cancelled
Friday 25th April - Setting The Mood With Light and Sound
Date TBC - Life after World War II
Friday 9th May - Physical theatre

In this workshop, we will explore the range of expressivity available to us through body language. We will explore exercises from plain body work and spatial awareness to physical comedy in a relaxed and fun setting. Comfortable, but not too loose clothing is advisable. Unless you feel very uncomfortable with it, I would advise working the exercises barefoot. A good alternative is to use socks with their toes and heels cut off.

Friday 16th May - Auditions #1
Monday 19th May - Auditions #2
Friday 6th June - Rehearsals begin (D-Day!)
Saturday 28th - Voice Workshop with RSC practitioner Michael Corbidge.

Limited places are available and charges will apply.
Please note that these dates might change. Please check the web site nearer the time just in case.
Performance Information
Show dates and times
| | |
| --- | --- |
| Wed, 29 October 2014 | - Curtain-up: 20:00 |
| Thu, 30 October 2014 | - Curtain-up: 20:00 |
| Fri, 31 October 2014 | - Curtain-up: 20:00 |
| Sat, 01 November 2014 | - Curtain-up: 20:00 |
Ticket Information
On the door
In Advance
Full Price
- £12.00
Full Price
- £10.00
Concession
- £11.00
Concession
- £9.00
Location
Frogmore Junior School,
Green Lane, Frogmore,
GU17 0NY
---
Tickets are available in advance by calling (01252) 409509 or e-mailing tickets@theatre64.org or on the door (subject to availability)