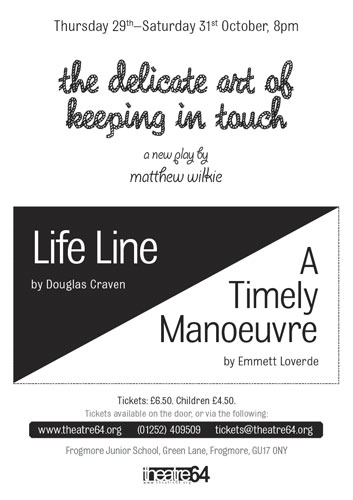 Download larger poster
the delicate art of keeping in touch & Life Line & A Timely Manoeuvre
by Matthew Wilkie (delicate art) & Douglas Craven (Life Line) & Emmett Loverde (Manoeuvre)
delicate art of keeping in touch
by Matthew Wilkie
A one act play by award winning local playwrite Matthew Wilkie. 'the delicate art of keeping in touch' is an exploration of life, love, loss, gain, search and obsession seen through the life of one man.
Life Line
by Douglas Craven
A man picks up a phone, desperate for help from the Good Samaritan Life Line. Little does he know he is about to enter voice mail hell.
A Timely Manoeuvre
by Emmett Loverde
Jane is unpleasantly surprised when her blind date, Reggie, sets an egg timer on the table. Five minutes later the timer goes off and Reggie makes a shock proposition.
Performance Information
Show dates and times
| | |
| --- | --- |
| Thu, 29 October 2009 | - Curtain-up: 20:00 |
| Fri, 30 October 2009 | - Curtain-up: 20:00 |
| Sat, 31 October 2009 | - Curtain-up: 20:00 |
Ticket Information
On the door
In Advance
Full Price
- £6.50
Full Price
- £5.50
Concession
- £4.50
Concession
- £3.50
Location
Frogmore Junior School,
Green Lane, Frogmore,
GU17 0NY
Enter your postcode for directions
---
Tickets are available in advance by calling (01252) 409509 or e-mailing tickets@theatre64.org or on the door (subject to availability)