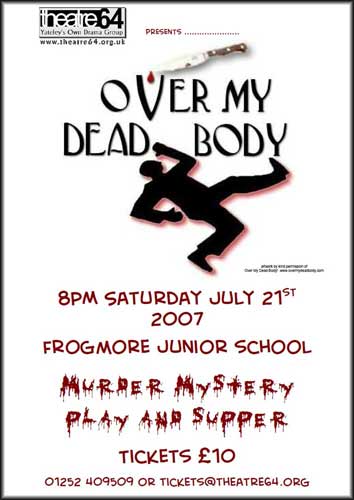 Download larger poster
Over My Dead Body
by Pat Baker
Murder Mystery evening and Supper
Members of an amateur theatre group stumble across an old set of scripts in a run down theatre. Evidently tensions are rising at Grabbit Manor. Lord Grabbit won't buy his daughter a new dress for her engagement to the unsuitable wastrel Roger. Curt, the butler, hasn't been paid for months and Lord Grabbit suspects Cook of cooking the books. When the lights come on after a sudden blackout, a body is found - a perplexing case for Inspector Foot (of the Yard)...!
N.B. Tickets must be purchased in advance for this show.
Please specify your choice of meal when booking your tickets.
Fish & Chips
Chicken & Chips
Vegetarian option
Performance Information
Show dates and times
| | |
| --- | --- |
| Sat, 21 July 2007 | - Curtain-up: 20:00 |
Ticket Information
On the door
In Advance
Full Price
- £10.00
Full Price
- £10.00
Concession
- £10.00
Concession
- £10.00
Location
Frogmore Junior School,
Green Lane, Frogmore,
GU17 0NY
Enter your postcode for directions
---
Tickets must be purchased in advance, and are available by calling (01252) 409509 or e-mailing tickets@theatre64.org