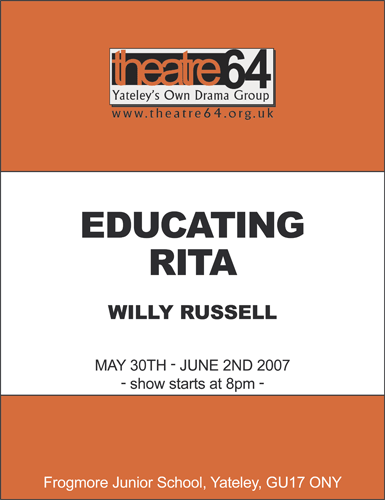 Download larger poster
Educating Rita
by Willie Russell
Educating Rita is a play about a Liverpudlian hairdresser who longs for freedom from the dreariness of her daily routine and thinks she can gain it by studying for a degree in English Literature from the Open university.
Frank is a bored university tutor and failed poet with a fondness for drink. It falls to him to try to teach Rita about the wonders of literature.
Both of them are about to discover that a little learning can be a dangerous thing.
Performance Information
Show dates and times
| | |
| --- | --- |
| Wed, 30 May 2007 | - Curtain-up: 20:00 |
| Thu, 31 May 2007 | - Curtain-up: 20:00 |
| Fri, 01 June 2007 | - Curtain-up: 20:00 |
| Sat, 02 June 2007 | - Curtain-up: 20:00 |
Ticket Information
On the door
In Advance
Full Price
- £6.50
Full Price
- £5.50
Concession
- £4.50
Concession
- £3.50
Location
Frogmore Junior School,
Green Lane, Frogmore,
GU17 0NY
Enter your postcode for directions
---
Tickets are available in advance by calling (01252) 409509 or e-mailing tickets@theatre64.org or on the door (subject to availability)